Muslimah Empowerment Part 2: HIJAB
November 27, 2018 — 5:30 pm
Free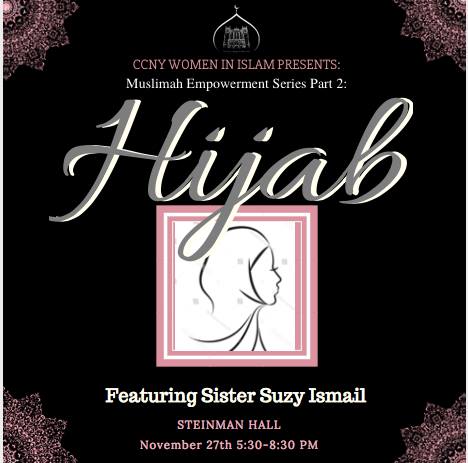 Our identity as Muslim women in this society has been constantly questioned. From our values, behavior, or even to the way we dress and carry ourselves.
Identifying Muslim Women seems to be as simple as picking fruits, but we forget that it goes beyond the hijab. Modesty is a concept that extends into all aspects of our lives. The most frequently asked questions we receive are:
"Why do we wear hijab?" or "Why don't we wear the hijab?"
And this comes from both Muslims and Non-Muslims. HIjabis and Non-hijabis.
We understand that hijab plays a huge role in the life of a Muslim Woman but we often forget that hijab does not only refer to just the cloth on our heads. Do we know the beauty behind covering ourselves for the sake of Allah (SWT)?
Join CCNY Women in Islam with sister Suzy Ismail to discuss the reasons behind the hijab and how we can embrace it as Muslim women in this society.
WHEN: November 27 2018, 5:30 PM- 8:30 PM
WHERE: Steinman Hall, Grove School of Engineering
Free admission and complimentary dinner! All sisters welcome!
Contact Info:
womislam@gtest.ccny.cuny.edu
We hope to see you there Inshallah,
WII Board '18-'19