---
Shaykh Ibad Wali explains the permissibility of vaccinating while fasting during Ramadan.
The following COVID-Compliant Taraweeh guidelines were formed in consultation with our Resident Scholar. Please review the following COVID-Compliant Taraweeh guidelines and recommendations by clicking on the PDF button below.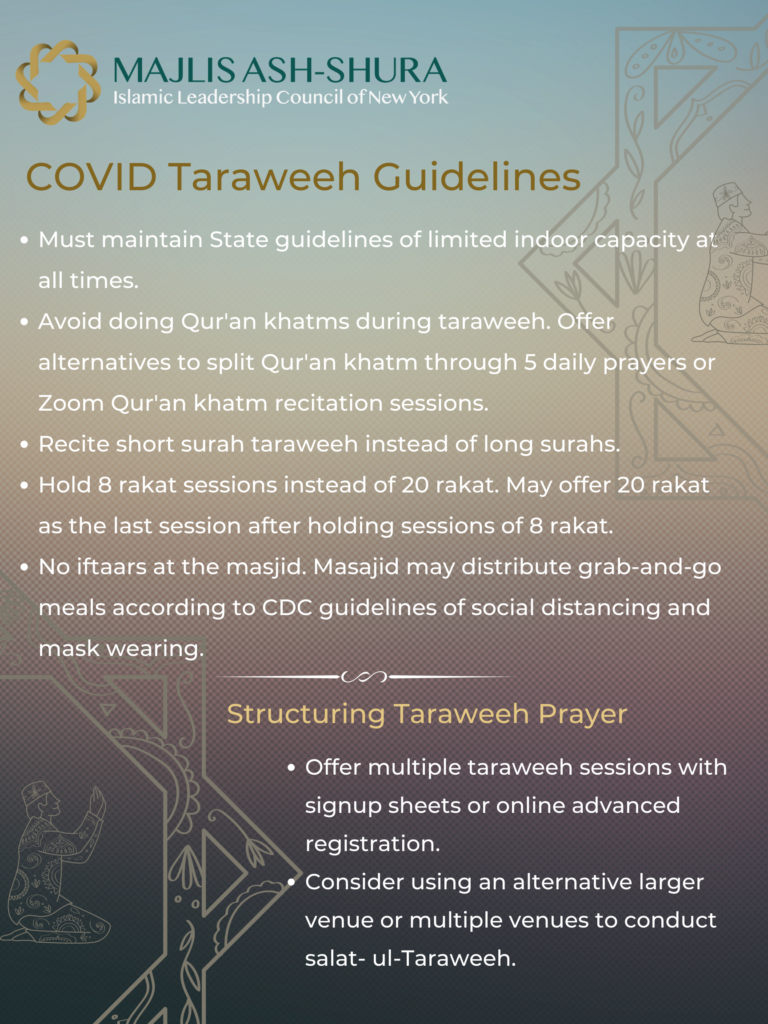 ---
View the National Muslim Task Force Statement on COVID-19 Vaccines
In this webinar, we address important questions and concerns from the community regarding the new COVID vaccines. We cover topics ranging from the science behind the vaccine, religious implications, and New York City's vaccine rollout program. Speakers include Dr. Bader El-Ghussein (NYU Langone), Shaykh Ibad-Wali (Islamic Leadership Council of New York), and Moses Mansu (NYC Department of Health and Mental Hygiene).
---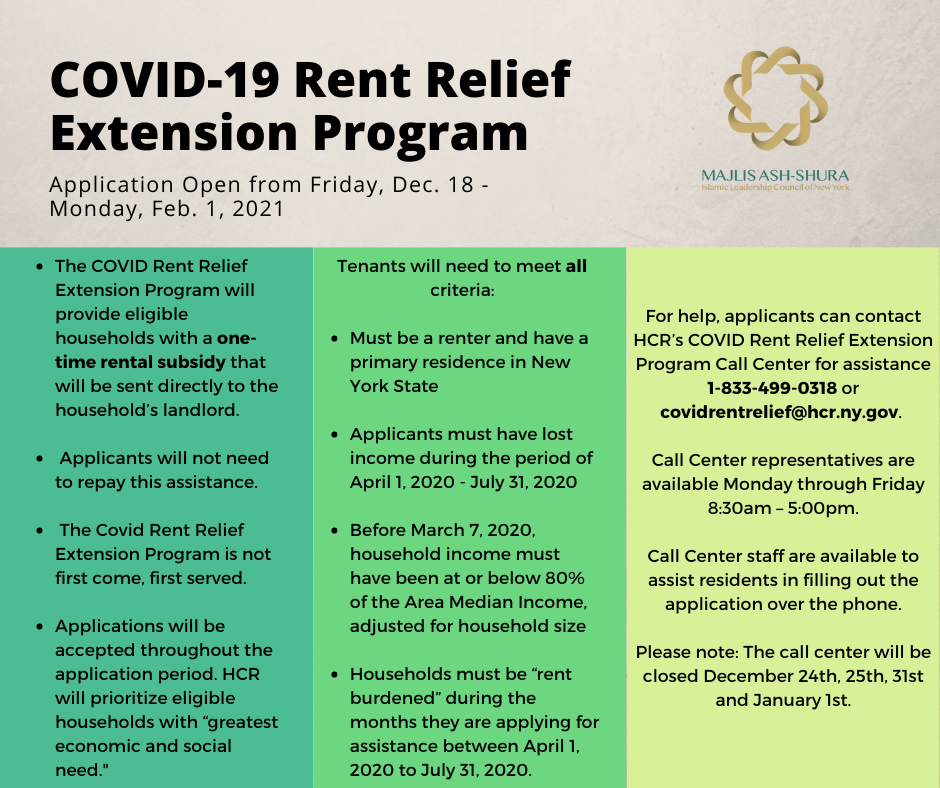 New York is preparing for its second-wave of COVID-19. Beginning today, October 8, 2020, new regulations will be put in place for different zones. Help curb the spread by following guidelines. Find out your zone at nyc.gov/covidzone.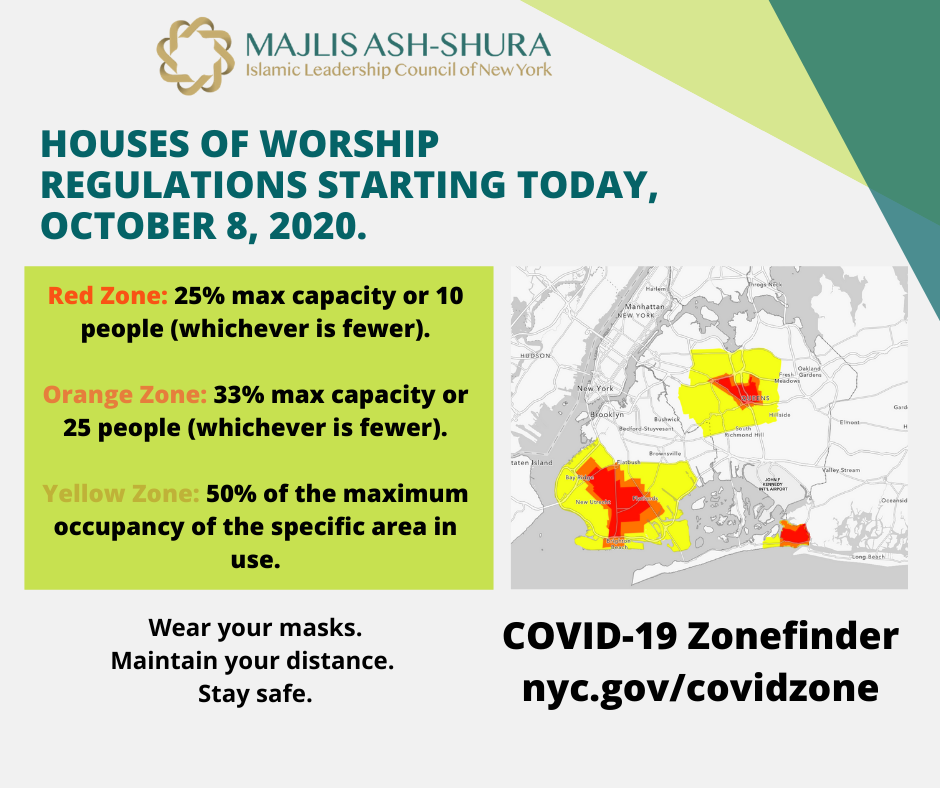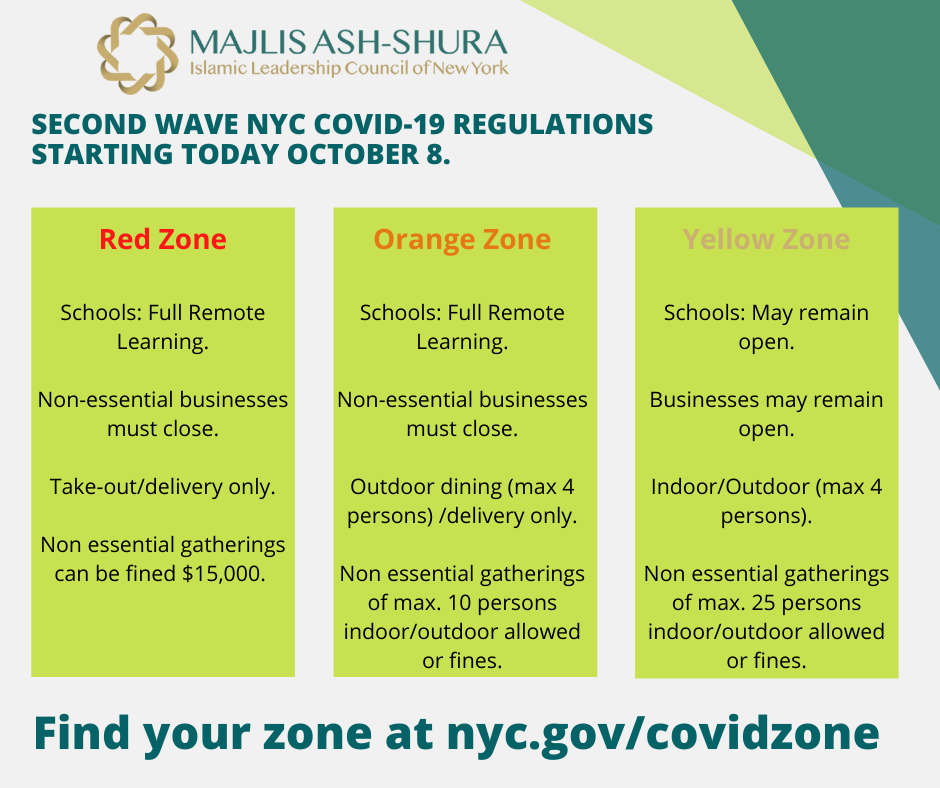 ---
Phase 4 New York City: Advisories
Monday, July 20th, New York City officially entered the final phase, Phase 4 of reopening. Majlis Ash-Shura: Islamic Leadership Council of New York is advising the Muslim community to continue to remain cautious and careful in their activities. Coronavirus still poses a great risk to the community and has the possibility to spike up again if proper measures are not put in place and enforced.
After consultations with Imams, medical experts, local leadership, and state and city officials, it has been deduced that mosques continue to pose dangers to the Muslim community due to the nature of close contact in prayer, ablution stations, and shared prayer carpets. Due to extenuating circumstances, it is suggested to minimize praying outside of the home. As mosques open up, it remains mandatory for them to follow all the proper precautions and protocols to ensure the safety of the community.
Mosques must, in accordance with the state requirements, fill-out and prepare safety plans detailing their resources and capacities to ensure the safety of their community and congregation.
Such protocols must include, but are not limited to:
-Restricting the maximum capacity for indoor spaces to 33% of its original capacity or a maximum capacity of 50 people for outdoor spaces
-Maintenance of social distance at least 6 feet apart.
-Wearing and/or providing masks to all congregants and staff at all times.
-Putting up signs or tape/markers to decrease bidirectional foot traffic and maintain social distancing
-Maintain routine sanitization protocols and provide hand sanitizer and/or other disinfectants.
-Recommending that individuals bring their own prayer rugs and perform ablution at home.
For a comprehensive list of city and state protocols, click here.
For a reference on how to create a safety plan for your mosque, click here.
To access the safety plan template, click here.
For questions, guidance, or assistance in filling out safety plans, contact info@shuranewyork.org or dial 311.

Download PDF of Letter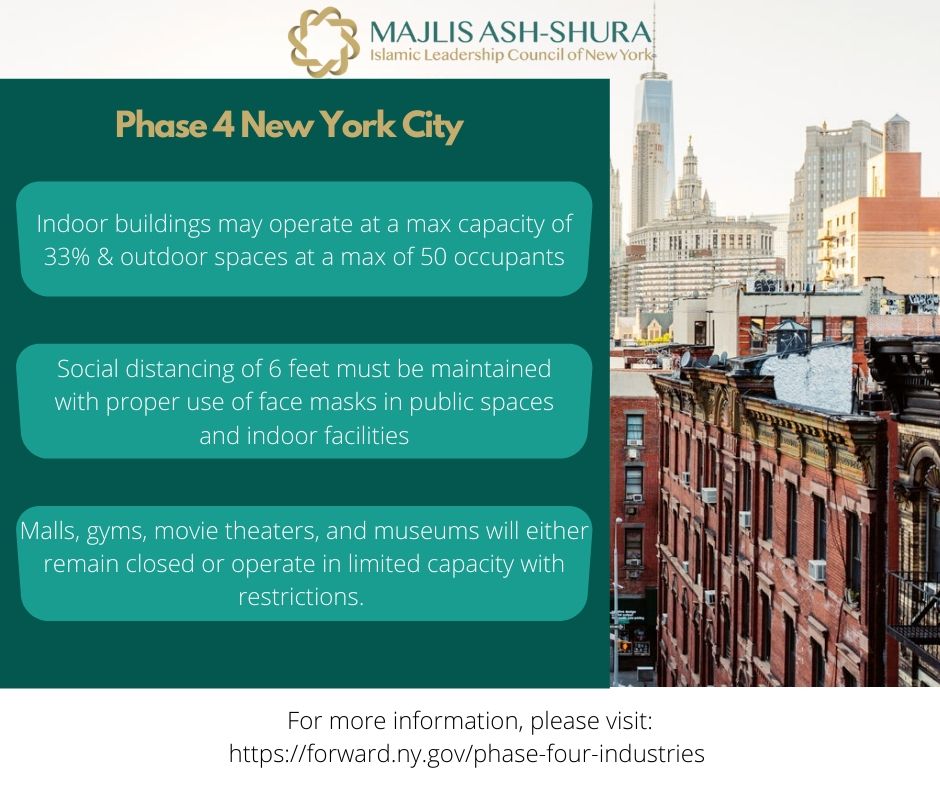 ---
Important Update:
The SBA Paycheck Protection Program has officially run out of money. However, we are encouraging you to continue applying for the program in the event that Congress passes a second Stimulus package.
---
---
A Message from Shura NY's President

Bismillahi Rahmani-Raheem
Dear Brothers and Sisters,
Assalamu alaikum wa Rahmatul-Allahi wa Barakatuhu

(New York, NY 03/23/2020) – As all of you know, the deadly novel Coronavirus has impacted the globe. It has severely affected life and the economy in many parts of the world. Despite several approaches being put into place around the world to contain the spread of the pandemic, social distancing has been found to be the most practical and effective solution in containing this virus. Places that have been badly hit by COVID-19 have resorted to various measures, whether obligatory or voluntary, to maintain this virus. Such measures include city lockdowns or closing down colleges, schools, and businesses.

Majlis Ash-Shura of New York, in coordination with national and local Muslim organizations in the US, strongly recommends that mosques immediately suspend all activities including the five daily prayers and Friday prayer for at least two weeks. This decision was based on fatwas in an overwhelming consensus by Islamic scholars locally, nationally, and internationally. Our scholars identified the risks of transmitting the disease to congregations through prayer as high risk, as these transmissions can then spread to families, households, and the overall Muslim community.

We know that many small mosques depend on Friday collections to cover their expenses. We ask the community to support the fund that the Majlis Ash-Shura of New York has started to support as many mosques and communities as possible during the period of closure. Your contributions will go a great length in protecting and securing our beloved sacred spaces.

Ultimately, we remain responsible in front of Allah (swt) to protect the vulnerable in our community. May Allah forbid, preventable casualties and spread of disease due to irresponsible behavior will place blame on the Muslim community by both the public and the Almighty. As a result, the priority for mosques at the present moment is to do everything possible to avoid being a cause of spreading this disease and death among its congregation and society.

My dear brothers and sisters of the Muslim community: I request you to stay home and avoid crowded places, including avoiding close contact such as praying in Jama'at., until this pandemic is over. It is not only for your safety, but for that of your family's, friends', coworkers' and society's as well. Whether the person is or is not exposed to the virus, he or she should stay away from people and practice social distancing.

During this difficult time, many in our community will suffer financial hardships due to the inability to work or conduct business activities. As a result, we are working to collect available resources to help our community's needs. This is a time for our community to be united, show compassion, and support each other. Our community must fight against this epidemic together.

As Ramadan is around the corner, we must prepare for worst case scenarios. Such as the indefinite closure of our mosques and the suspension of taraweeh prayers and community iftaars. At this time, it is incumbent upon us all to call on Allah (swt), make sincere du'a, ask for forgiveness and ask the Almighty to protect us all and get through this period of difficulty with ease. We must utilize this time efficiently, to renew our relationship with our Lord.

On an individual level, I urge everyone to make the most out of this time by engaging with the Deen. Plan a study schedule with your family, watch lectures by Islamic scholars, read and memorize the Qur'an, and seize the opportunity to make extra prayers and dhikr. As schools are closed, engage your children in Islam and teach them about the beloved Prophet Muhammad (s.a.w), while supporting them to do their school work and assignents.

Our Muslim community has faced many challenges, and this remains yet another one. However, we must continue to make the most out of every situation. We must rise to the occasion and keep our community safe at all costs.

I ask Allah to help us overcome this challenge, safeguard our elders, heal the sick, guide us all and protect us all from this harmful virus.

Dr. Abdelhafid Djemil
Majlis Ash-Shura of New York, President
Download PDF
Many mosques are financially struggling due to the suspension of services. Prayer services and Jummah provide a steady income for Imams and allow for mosque maintenance. Please donate generously to our Safety Fund below so that we can assist our beloved sacred spaces during these difficult times.
---
3/15 Updates: COVID-19 Taskforce: Shutting Down Mosques for at Least 2 Weeks
(New York, NY, 03/15/2020) – Majlis Ash-Shura: Islamic Leadership Council of New York, in coordination with the COVID-19 Task Force, is urgently advising that all New York area mosques shut down services and prayers effective immediately for at least two weeks. After much deliberation with various religious leaders, doctors, and organizations, it has been overwhelmingly decided that this judgment is a matter of public safety and for the well-being of the Muslim community and society at-large.

New developments from world agencies are warning the public about the dangerous high risk that COVID-19 poses to the limited healthcare system and to vulnerable populations including pregnant women, the elderly, and the immuno-compromised. This decision is in conjunction with Islamic law, assessments to the danger this poses to the Muslim community from a health and security standpoint, in addition to the responsibility that we hold as a religious community to others.
As an umbrella organization representing the needs and concerns of the Muslim community, this difficult decision was made with various consultation from experts, and we are strongly urging that mosques and the Muslim community comply with these advisories. Once again we ask that you limit your gatherings, maintain proper hygiene and practice precautions. We are actively monitoring the situation and will update on an as-needed basis.

---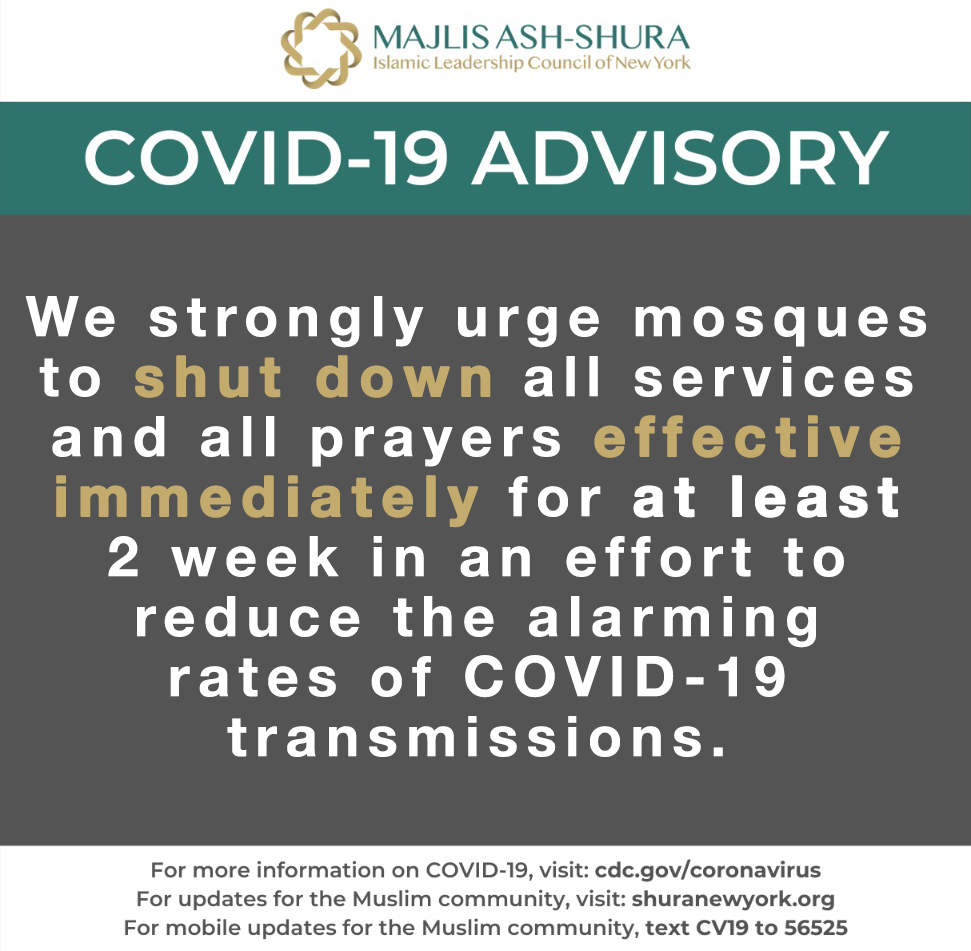 3/13 Update: Suspending Friday service
(New York, NY, 03/13/2020) – Majlis Ash-Shura: Islamic Leadership Council of New York in coordination with the COVID-19 Task Force, strongly advises mosques to suspend Jummah services today, March 13, in an effort to prevent the spreading of the COVID-19 virus.

This difficult decision was made in coordination and consultation with various imams, mosques, and healthcare experts. As of now, the rapid spread of COVID-19 throughout New York State is overbearing on the healthcare system and places the most vulnerable in our community at risk. As a community of faith, it remains our collective and social responsibility to protect the weak and elderly, and we hope that temporary suspensions now will require fewer suspensions in the future.

Ultimate decisions to suspend Jummah services remain with local mosque leadership and communities. Should communities decide to continue with services as usual, Majlis Ash-Shura: Islamic Leadership Council of New York advises practicing extreme precautionary measures of sanitization, social distancing, and limiting congregation numbers. We urge mosques to turn away the elderly, those with weaker immune systems, and anyone exhibiting cold or flu-like symptoms. Most importantly, we ask the community to remain calm and united on difficult matters, so that we may get through these difficult times with ease.
Download update
How to Conduct Alternate Jummahs in Smaller Gatherings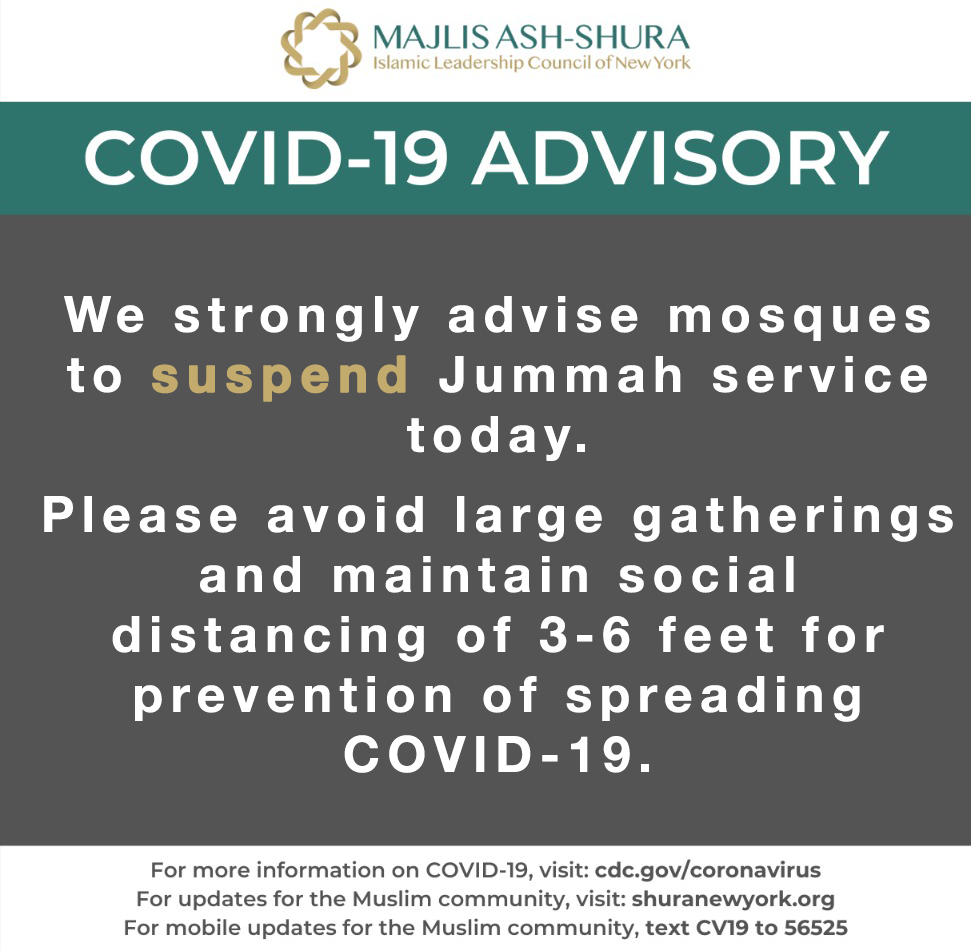 ---
(New York, NY, 03/12/2020) – Given the urgency of the current situation surrounding COVID-19, Majlis Ash-Shura: Islamic Leadership Council of New York has decided to create and facilitate a taskforce with several Muslim organizations, including ICNA, MAS, MUNA, MANA, CAIR-NY, the Tri-State Imams Council, and also consisting of local leaders, Imams, physicians, and activists. This taskforce is dedicated to provide educational material, resources, and guide the Muslim community throughout this pandemic with calmness.
After much consultation, it is our recommendations that religious leaders, mosques, organizations, and the community practice the following to reduce the impact of this virus:


Mosques should shorten any khutbas and prayers as much as possible, and should limit its public programs for the sake of limiting public interactions. Healthy adult men are still obligated to perform jumu'ah and congregational prayers.
Do NOT come to the mosque or go out in public spaces if you are feeling flu-like symptoms such as fever, shortness of breath, and a dry cough. We strongly advise the elderly, and those with weaker immune systems and chronic illnesses, such as heart disease, diabetes, a compromised immune system, chronic pulmonary/lung disease, and/or cancer to avoid the mosque and places of big public gatherings during this outbreak.
Avoid unnecessary travel whether you are healthy or sick, to limit the spread of this virus.
Prepare for the possibility of temporary mosque closures to contain any outbreaks. In extreme cases, such as if movement is restricted in your area or you are seriously ill, it is permissible for you to pray Jumu'ah prayer in the form of Dhuhr at home.
Gatherings of 500+ will be prohibited beginning on Friday, March 13. Furthermore, facilities with capacities of 500 or less will be legally required to reduce its occupancy by half.
We urge the community and our institutions to practice proper cleanliness and hygiene at all times. Provide adequate hand-sanitizer and antibacterial soap at your mosques. Disinfect your mosques daily, including bathrooms, doorknobs, and highly trafficked surfaces and areas.
Please wash your hands with soap and water frequently for at least twenty seconds. Make sure your children are practicing these habits. In addition, try to perform ablution at home, bring your own prayer rugs, and limit all forms of physical touch including handshakes, hugs and kisses at the mosque.
We will continue to update the Muslim community regarding the possibility of school and mosque closures through our websites and social media channels.

To stay up-to-date with this task force:
To get regular updates for the Muslim community, text CV19 to 56525
For all other information, visit: ShuraNewYork.org, email: info@shuranewyork.org, or call: (929) 777-5592
For more information:
If you have any questions on finding medical care, call 311.
To get regular updates on the latest developments with Coronavirus in New York City, text COVID to 692-692. You will receive regular SMS texts with the latest news and developments.
For additional information head to: nyc.gov/coronavirus